Factomind's takeaway on Web3 industry in Japan and the role of Astar Network
This content is provided for informational and educational purposes only, and should not be relied upon as legal, business, investment, or tax advice. Furthermore, references to any securities or digital assets are for illustrative purposes only and do not constitute an investment recommendation or offer to provide investment advisory services. Factomind cannot be responsible for your use of the information provided in this content. Factomind has established, maintained, and enforced strict internal policies and procedures designed to identify and effectively manage conflicts of interest related to its business activities. Factomind does not own any digital assets mentioned below, nor has it made any purchases or sales of the digital assets mentioned below. All materials in this research paper are sourced from publicly available information.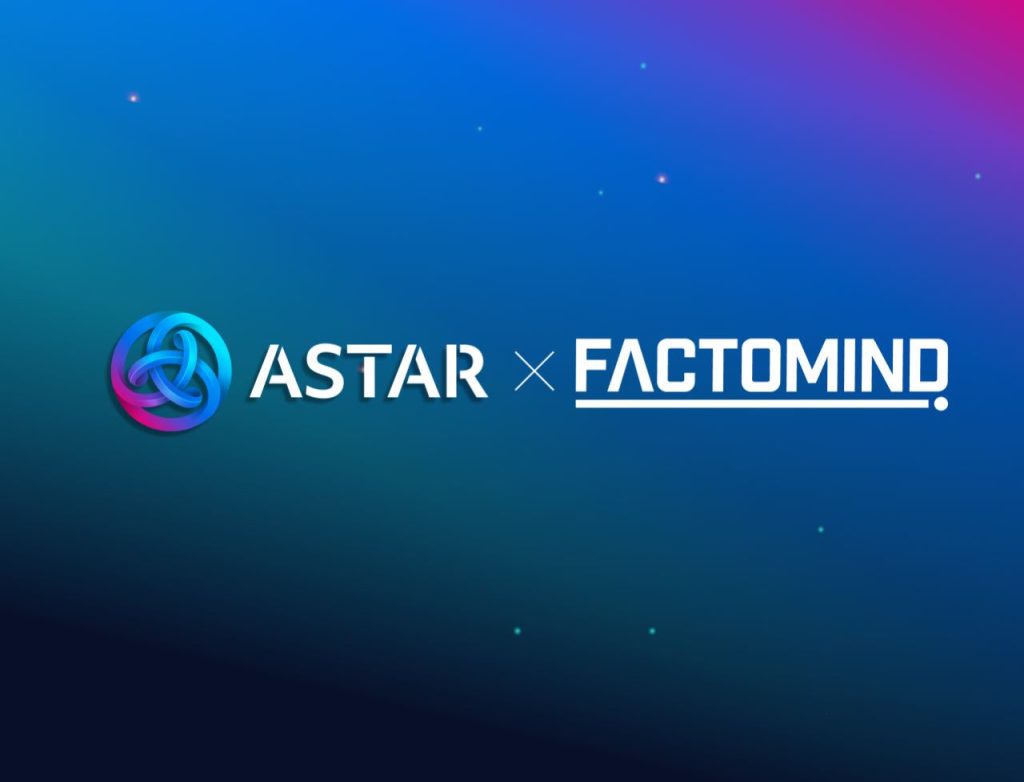 Once an overlooked region, Japan has now became the talk of the Web3 town. Astar Network is a Japan-based L1 that has already achieved widespread adoption among enterprises and retail customers to some extent. We are pleased to announce the partnership between Astar Network and Factomind to exchange pioneering ideas.
As the origin of the Mt Gox incident, Japan was the first to attempt to bring regulatory framework to Web3, but during the process, Japan ended up implementing tighter regulations for a long time.
Nonetheless, Japan emerged to be a pro-Web3 advocate as it views Web3 as a means 'to revolutionize the current internet infrastructure and promote societal transformation,' as quoted by Fumio Kishida, the prime minister of Japan, at the WebX conference. With its recent moves such as Liberal Democratic Party's Web3 whitepaper and preparation of allowing startups to fund via digital assets, Japan's direction towards Web3 is clearer than ever.
For a long time, Japan has been recognized for its strong IP and vibrant culture. Now with the rapid adoption of Web3 happening there, Japan is a market that should never be dismissed.
Astar, widely known as the Japan chain, is the largest Polkadot parachain and also one of the most adopted blockchains by enterprises. The electronics giant, Sony has also partnered with Astar to build its own blockchain; in addition to Sony, NTT Digital, Mazda, and countless other companies have onboarded Astar for its robust technology and network effects, making Astar the leading project in the mass adoption.
However, Sota Watanabe's Web2 outreach did not stop at enterprises — a series of Public-Private Partnerships with Japanese prefectures has been announced to invigorate local vitality via metaverses, a tangible achievement in merging blockchains into everyday life.
Astar Network keeps developing its Web3 tech stacks as well. With its recently announced Astar zkEVM jointly built with Polygon Labs, Astar has moved into the modular world; the full interoperability between Astar Substrate and Astar zkEVM explicitly shows Astar's strong view on the directions of modularity.
The growth of Web3 in Japan is 'immutable,' and undoubtedly the pioneer in Japan, Astar Network, holds great potential.
The geographical, cultural proximity between Korea and Japan is substantial, and in Web3, the significance is even greater. While Japan was the first to implement the legal framework of Web3, Korea was the first to introduce private innovations. The Japanese players seek instances of business experiments in Korea whereas the Korean players study the corporate participation of the Japanese market. The exchange of local expertise and relevant information would be the primary purpose of the partnership between Astar and Factomind.
Moreover, organizing a properly optimized business strategy is essential for success in the fast-maturing Web3 market of Japan, where one must stand out among thousands of springing innovative projects.
Factomind specializes in delivering data-driven solutions to optimize business strategy and has expertise in the financial market, and we have been providing our services to infrastructure builders, large game companies, and DeFi projects. We are eager to contribute to the expansion the Astar ecosystem with our expertise.